Welcome to Hudson Valley International Festival of the Voice
Classic – Innovative – Invigorating – Nurturing – Opera in Upstate N.Y.
A family friendly, outdoor Opera & Music Festival in the Hudson Valley town of New Paltz N.Y.
Join us under the stars, in the picture perfect, upstate N.Y. small town of New Paltz, where lovers of the arts and music come together each year for a unique, intimate live music Festival with world-renowned Artists, Conductors and Opera Companies including NYC Opera. We invite you to bring a picnic basket, a bottle of your favorite wine, sit back and enjoy.
Directions & Parking
June 2024 the Festival will be held on the main quad of Suny New Paltz, located within the Hudson Valley region of New York, approximately an hour and half or 80 miles north of NYC. Upon arrival, parking signs and parking personnel will direct you to our Festival's parking.
Choose From
Free, Premium Parking or Handicapped Parking.
GPS Address
1 Hawk Dr, New Paltz, NY 12561
Public Transportation
Adirondack Trailways operates bus service to New Paltz.
Amtrak offers service from Penn Station in NYC to Poughkeepsie N.Y, 12 miles East of New Paltz.
Intern Maia Weiss explains why everyone should go to an Opera.
"you have no longer an excuse to not to go to an opera"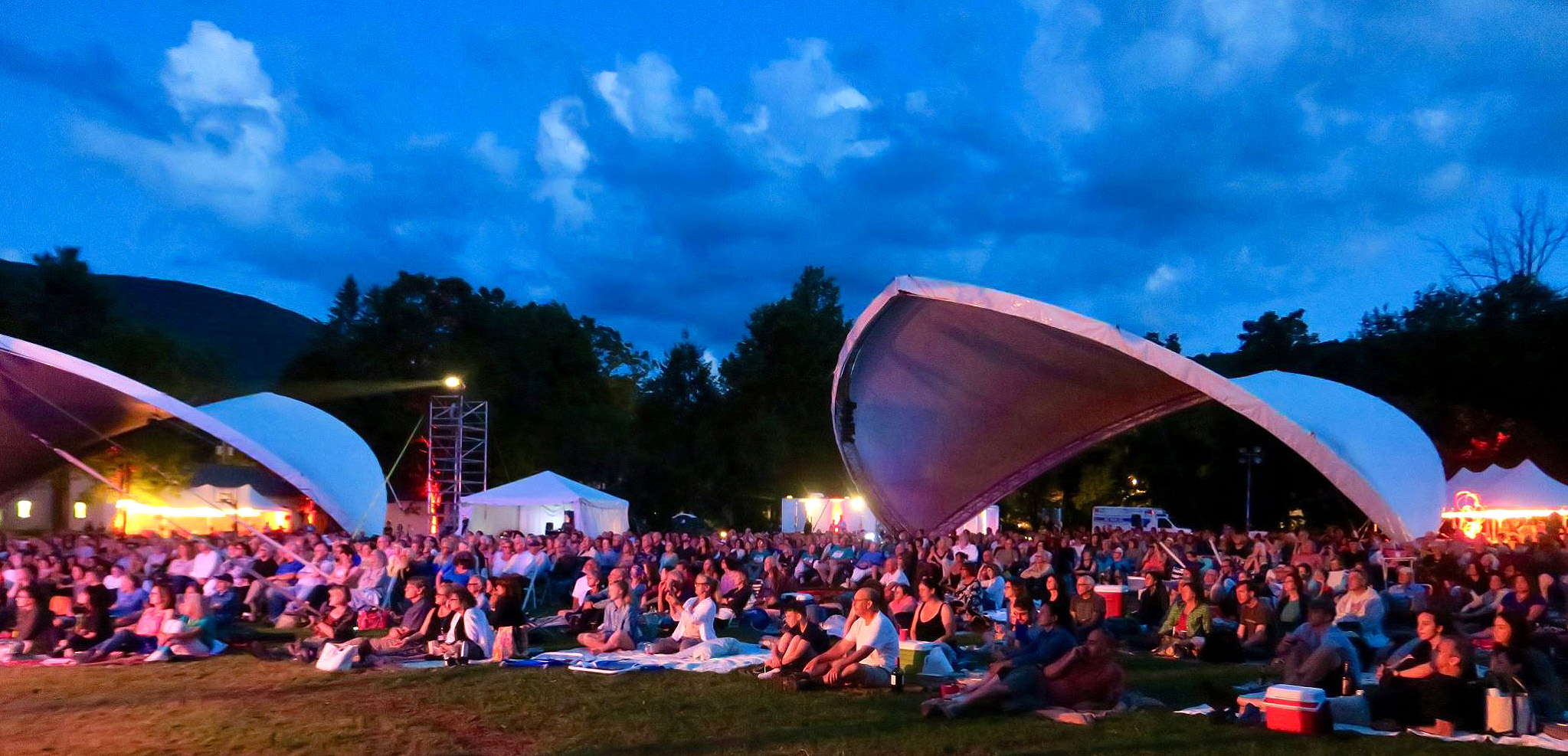 Accessibility
The Hudson Valley International Festival of the Voice is committed to enabling everyone to hear music in harmony and comfort. For handicapped or disabled patrons, we provide parking in specially designated spaces. The terrain of Parish Field, our main stage area, is flat but grassy, and if your wheelchair has difficulty moving on it,  we'll gladly drive you to your seat in a golf cart.
Tickets & Seating
Tickets are general seating and may be purchased in advance on this website, by phone, and at the gate prior to performances. VIP ticket holders will be brought to their special VIP chairs in front of the main stage.
All tickets are sold on a first come basis and subject to limit restrictions. All Tickets are Non-Refundable.
Pets
Pets are not allowed on the performance field.
Restrooms
Restrooms are available on our main performance field and are wheelchair accessible.
Great Local Food
Gab's Veg Table will be the on the main performance field during this seasons events.
Gabrielle is a Hudson Valley based chef specializing in using seasonal and local ingredients. After a decade of working in the food industry, Gab's Veg Table was born in January of 2021 – a pop-up offering vegan Italian deli-inspired grab and go sandwiches and sides. The idea for Gab's Veg Table came from a desire to feed family, friends, and community the same food Gabrielle had been making at home for years. With a rotating seasonal menu, Gab's Veg Table aims to highlight the amazing local produce and products the Hudson Valley offers year round.
Or like many, bring a picnic for your friends and family to enjoy.
New Paltz NY
7:33 pm, June 7, 2023
17°C
Wind: 6 mph
Pressure: 1002 mb
Visibility: 10 km
Sunrise: 5:22 am
Sunset: 8:28 pm
Weather
The festival is an outdoor rain or shine event, all acts are subject to change without notice.
That's right!  In the tradition of outdoor festivals throughout the world, the show goes on regardless of the weather – rain or shine!
We do suggest you come prepared,
If weather looks threatening, please pack a rain jacket and umbrella.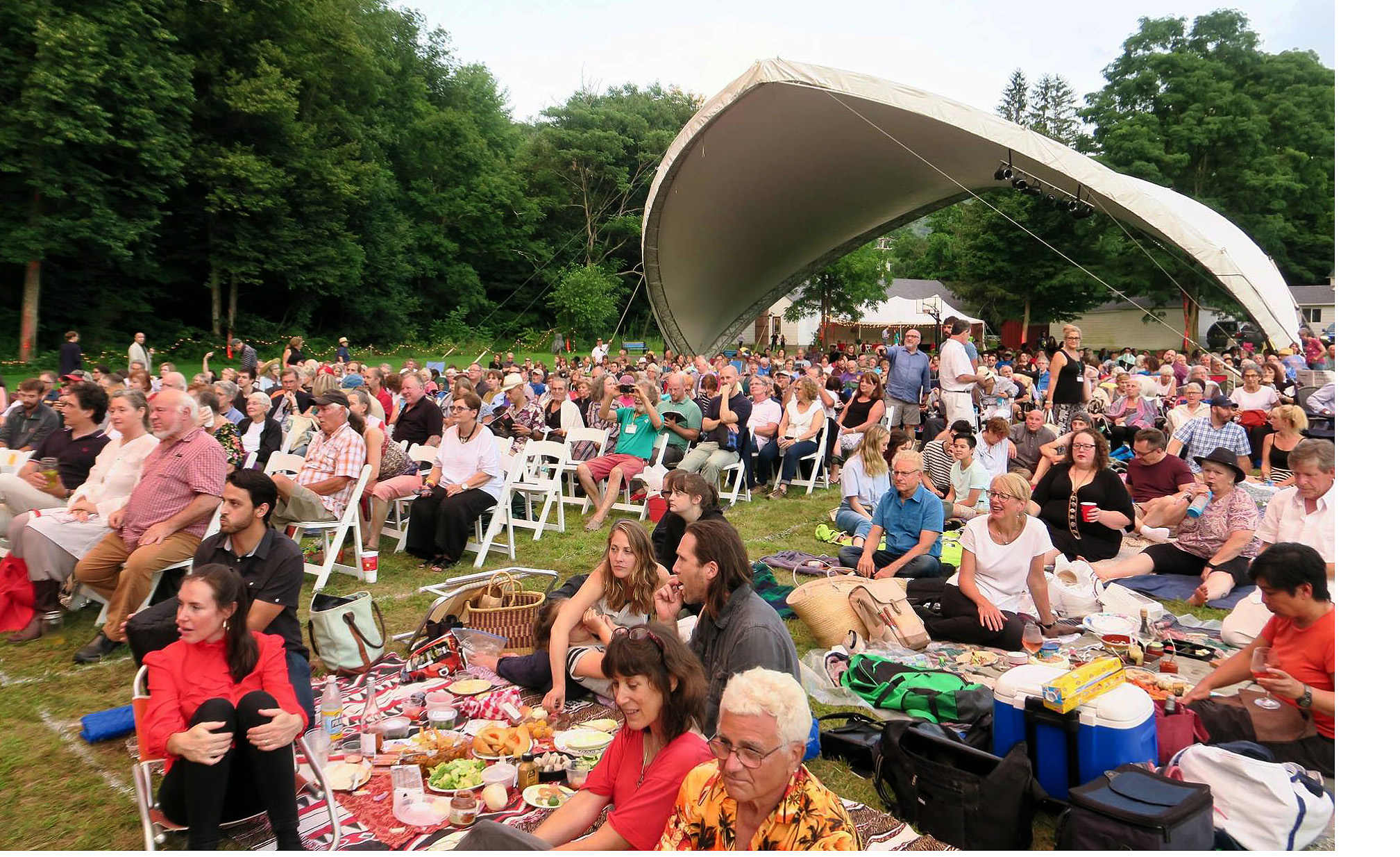 We are in the Catskill Mountains,
may we suggest you bring the following:
Temperatures in the Catskill Mountains can drop to the 50's on fall evenings, please do come prepared.
Of course, rain too is always a possibility.
Dress comfortably, the Festival does not have a dress code.
Lawn chair (low)
Blanket, Sunscreen and a hat
Bug spray
Water
Umbrella
Picnic, or enjoy our local food vendors and wineries
Children at the Festival
Bring the whole family, general admission for children under 18 years of age is only $5.00 per event.
The Phoenicia Festival of the Voice welcomes children and invites them to run around and play freely and happily before the music starts and during intermissions. Once the baton is raised and the show begins, we expect all children to do what every theatergoer should do—behave in a way that respects both their fellow audience-members and the performers on stage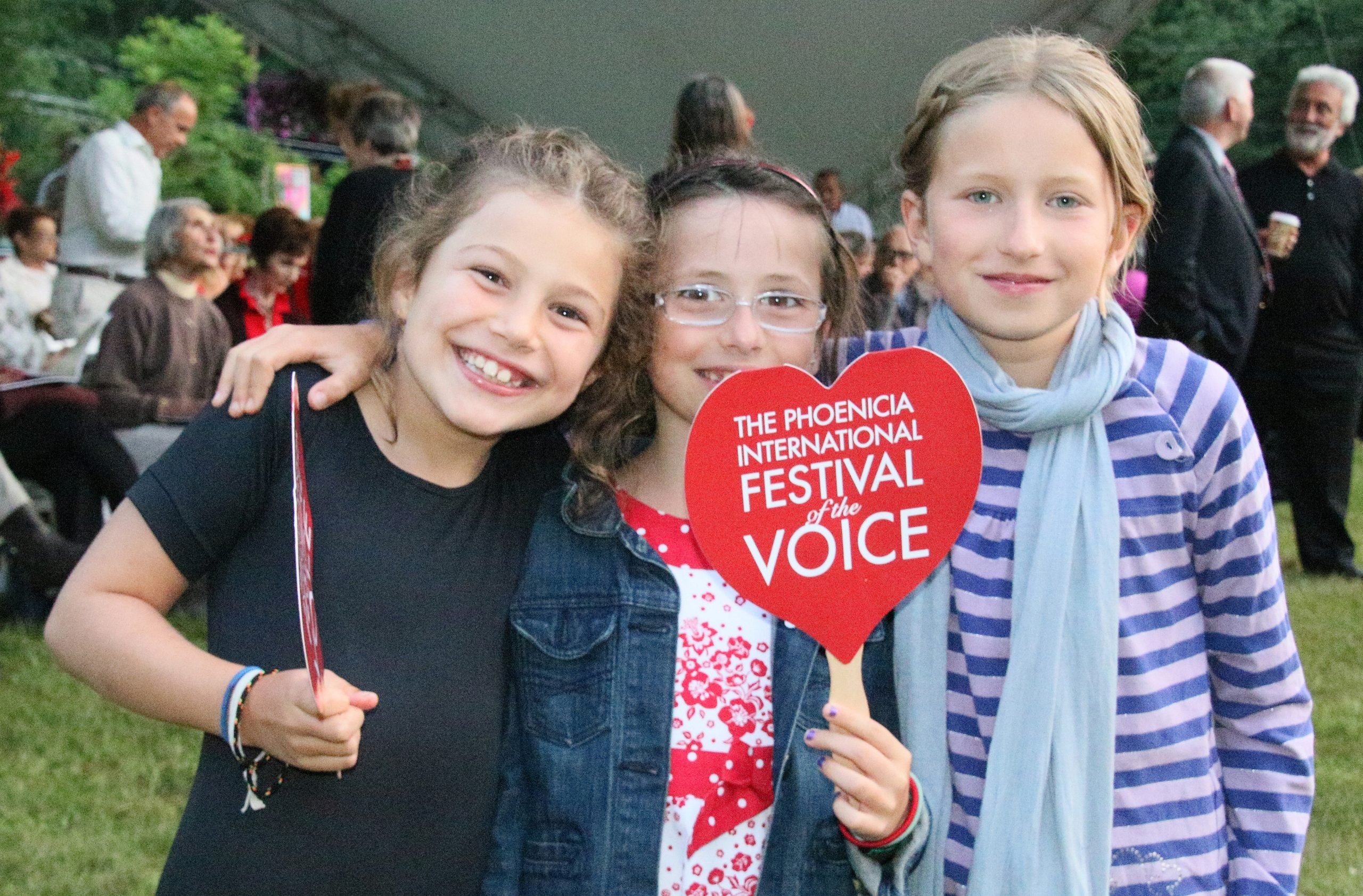 The Hudson Valley International Festival of the Voice lasts less than a week, but we live in this community year-round, and our community is integral to our purpose and our success.
Quite simply, there wouldn't be a Phoenicia Festival of the Voice without the help of the community—not just of Phoenicia itself, but of the other villages and hamlets along the Route 28 corridor of the central Catskills. The members of our community staff the Festival, serve as its army of volunteers, host artists and stage folk in their homes during Festival week, perform as members of two local choral groups and as extras and interns, and stay to applaud till the last encore has sounded. Happily, the beneficial relationship between the Festival and the community is mutual.
Over the years, as the Festival has drawn thousands of visitors—literally from around the world—it has also stimulated additional local activities, artistic and otherwise, serving as a spur to the region's economic strength and boosting awareness of the beauties of the area and of its diverse recreational activities. We've also reached out around the area and across the generations to make music an essential part of community life year-round. The Phoenicia Community Choir and the Woodstock Community Chorale, both created by Maria Todaro,  perform annually at the Festival and are featured as well at numerous local events year-round. And take a look at this year's official Festival of the Voice banner. It was designed, as is each annual banner, by a local artist working with a handful of children chosen for their artistic potential.
All this ongoing community interaction reaches its peak at the Festival, when we call upon everyone in the audience, wherever you hail from, to experience the exhilaration of group performance when the Community Sings. No wonder we're so proud to have been the 2017 recipients of the Health Alliance Foundation's 2017 Community Service Award.
Question: Why does the "general pass" only include evening performances, and not the daytime events?
Answer:  Our usual festival is a multi-event one, so usually many of the daytime events are held in small venues, with limited seating.  To avoid overcrowding, tickets must be purchased separately for the individual daytime event. This year, only nighttime events.. so yes! there is a pass.
Question: I purchased tickets online.  Will these be sent to me, or do I pick them up when I come to the festival?
Answer:  After your online purchase, print your receipt, and bring it with you to the festival. Due to Covid 19 limitations, we encourage you to purchase your ticket asap online. seating is limited and we are trying to avoid long lines and too many manipulations.
Question: May I buy advance tickets in person, rather than online?
Answer: Yes, tickets may be purchased at the festival Ticket booth. but again , this year, we encourage you to purchase online.
Question: What if I lose my ticket? Will I get a refund or replacement tickets?
Answer: No, unfortunately we can't do that. Hold onto your tickets!
Question: May I bring my dog with me?
Answer: Unfortunately, pets are not allowed at the performances.
Question: How early may I arrive at Parish Field for the evening events?
Answer:  Admission to the field is scheduled to start at 6:30pm. VIP are invited to arrive as early as 5:30pm. a pre-talk before the show will be offered to them.
Question: I know there is limited parking close to Parish Field. How do I get to the performance if I park in one of the outer lots?
Answer: There will be a shuttle van between the larger parking lots and Parish Field for the evening events.
Question: Can I bring food with me?
Answer: Absolutely! Bring a picnic and your favorite beverage. Some even bring tables, candles… But if you do not, you will find everything you need in town or even on the field.
Question: How long does the opera last?
Answer: Please visit our Upcoming Events page for performance time and many other show details.
Question: Will I understand what they are singing?
Answer: Yes. English translations of the lyrics are projected on tow jumbotron screens by the stage as they are sung. And a full synopsis of the opera is provided  on our website . This year, we will provide a QR code to access our program online.
Question: If it rains will I be refunded?
Answer: All Tickets are Non-Refundable.
Did we miss something? Please contact us, were happy to help!
Medical
Llobet Medical Group  42082 State Highway 28, Margaretville NY 845-586-3888
Maverick Family Health   4080 Route 28, Boiceville, NY 845-657-7820
Margaretville Hospital  42084 Route 28, Margaretville, NY 845 -586-2631
Phoenicia Pharmacy Main Street at Route 214, Phoenicia, NY 845-688-2215
Health Alliance Hospital  105 Mary's Ave, Kingston, NY 845-338-2500
Learn About Phoenicia
For local stores, Services and history please visit Phoenicia NY.com.
Legend has it, Dutch Schultz, made infamous by Francis Ford Coppola's The Godfather, buried his treasure of money and jewels within the mountains of Phoenicia.
If you find it, we would love to be the first to know!