Pagliacci by Leoncavallo
August 28, 2021 @ 8:00 pm

-

10:00 pm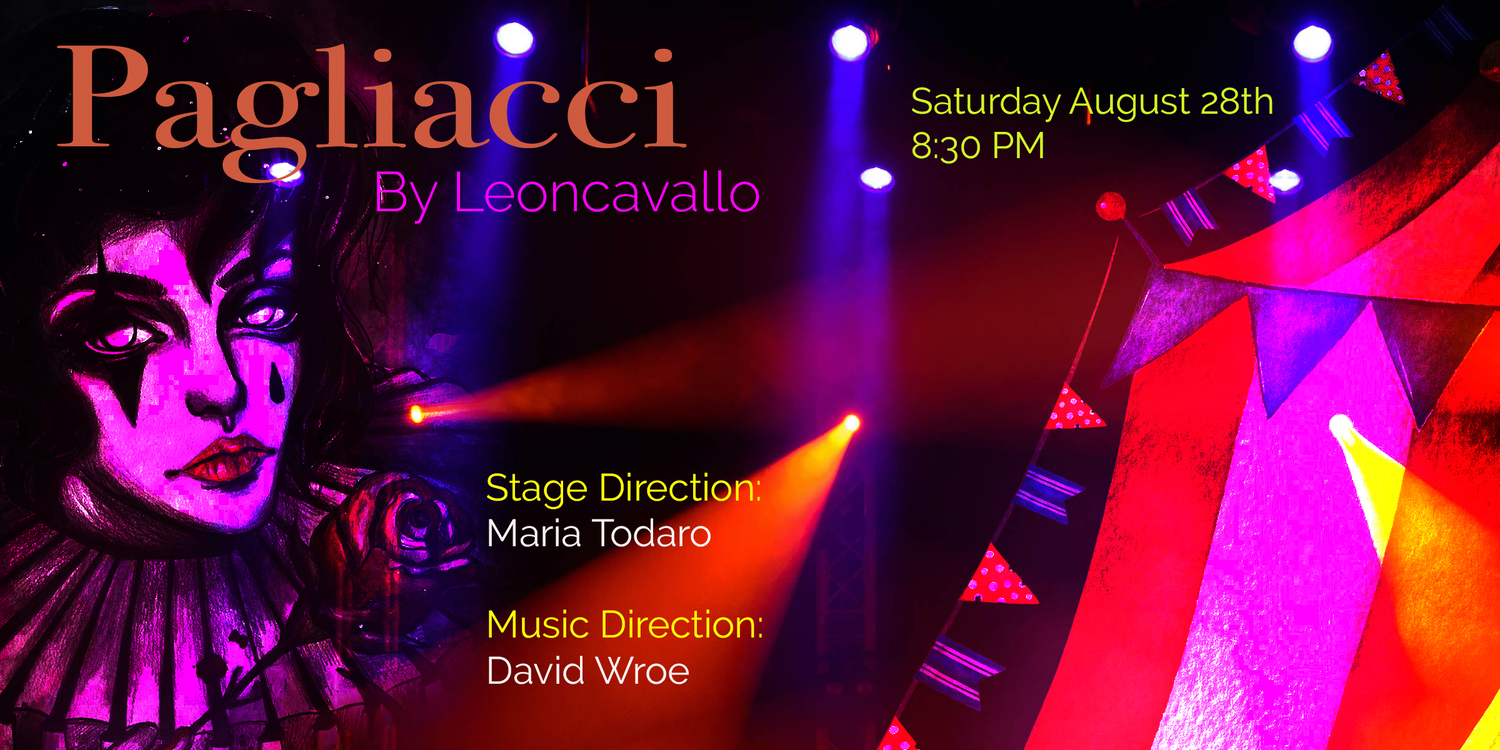 Leoncavallo's Pagliacci was premiered in Milan in 1892. However, while traditionally set in that time period and in Calabria, the story is timeless – wanderlust, jealousy, intrigue, revenge, and the tragic outworking of human frailty. Maria Todaro's production will take place in the wild west with horses, wagons and a distinctly western flare plus the addition of special, surprise, circus performers.
PROLOGUE
The actor, Tonio, delivers a prologue explaining to the audience that though they will be play-acting, the actors are made of flesh and bone, and, just like the audience, suffer the same difficulties in their private lives.
ACT I
A village in the wild west..
A crowd gathers to await the arrival of the strolling players along with some circus performers. The leader of the troup, Canio, invites them to a performance later that evening. As he and Beppe prepare to join the villagers at the inn, one of them jokingly warns him against leaving his wife, Nedda, behind with Tonio. Canio's tense reply chills Nedda – that while he tolerates her infidelity in the play, should she stray in reality, the results would be tragic. Art and life are not the same, he says. Nedda wishes to be free of the sometimes brutal Canio, free like the birds to which she sings flying overhead.
Tonio, draws near, attracted by her song. But when he declares his love, she repulses him, at first mockingly and then angrily, finally striking him with a whip when he tries to embrace her. He slinks off, vowing vengeance. Hiding, he watches as she greets her lover, Silvio, one of the villagers. In a passionate duet, Silvio persuades her to leave Canio and run away with him. They agree to meet later that night.
Tonio has brought Canio, who overhears their parting words. Nedda delays him while Silvio escapes without being recognized. Tonio suggests that Canio bide his time, as the lover is sure to come to the performance and betray himself. Broken-hearted, Canio dresses and puts on his make-up for the performance, reminding himself bitterly that he is not a man – only a clown. In one of the most recognized melodies in opera, he declaims what every artist knows: I must play the clown even while my heart is breaking!
ACT II
Later that evening
The villagers gather and the play begins. Columbina's (Nedda) jealous husband Pagliaccio (Canio) is away, and after rejecting the advances of Taddeo (Tonio), she entertains her lover Harlequin (Beppe).
Pagliaccio returns and begins to question Columbina. Columbina's parting words to Harlequin as he runs off are the same as Nedda uttered to Silvio, and Canio slips from the pretended jealousy of Pagliaccio to his own real situation. Canio mournfully asks her how she can betray him after he rescued her from the street, gave her a life and loved her. His sadness, however, turns to fury as he demands her lover's name. Nedda, breaking character, says that if he has already judged her, then throw her out. But she quickly recovers and tries to keep within the frame of the play.
Forced to confront the reality of the situation, she refuses to name her lover and is shot by Canio. Silvio, finally realizing that the players are no longer just "acting," rushes from the audience, too late to save Nedda, and is also killed by Canio. Tonio announces to the stunned audience: "The play is over."
Role // Cast Member
Canio (tenor), Errin Brooks
Nedda (soprano), Marcelina Beucher
Tonio (baritone), Troy Cook
Silvio (baritone), Matthew Gamble
Beppe (tenor), Ziwen Xiang
Conductor, David Wroe
Stage Director/Concept, Maria Todaro
Westchester Circus Arts
Assistant Stage Director, Katia Michelopoulos
Light Design, Dan Jobbins
Chorus Master, Jason Tramm
Vocal Coach/Accompanist/Conductor: Douglas Jay Martin
Vehicles: Charter Armor, LLC, Christopher Mee
Videography/Film, James Sapione
The Phoenicia International Festival of the Voice Chorus and Orchestra
Phoenicia International Festival of The Voice Children Chorus, Harvey Boyer